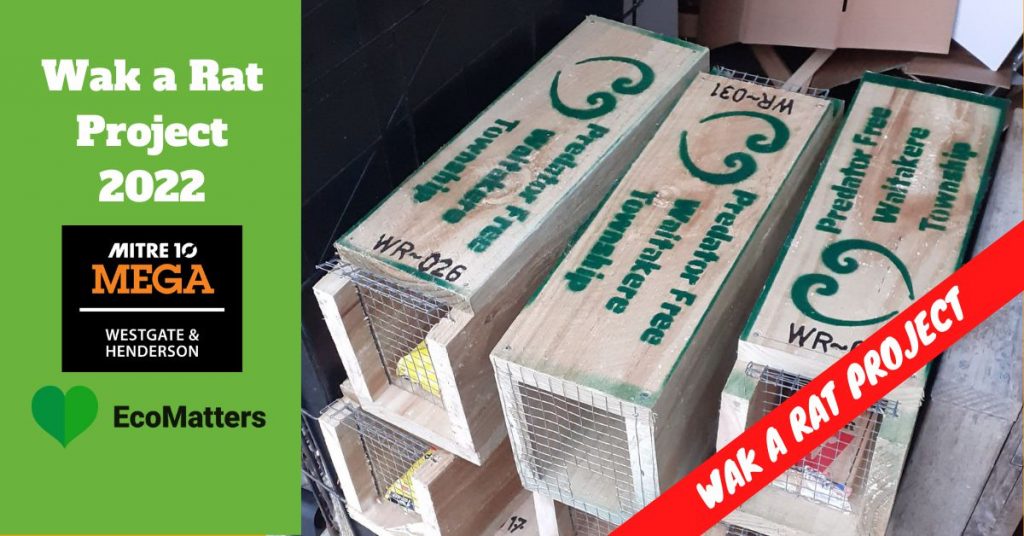 Wak a Rat Project – Workshop & Subsidised Rat Traps
We are holding a Rat Trapping Workshop on 4 August 2022 at the Waitakere RSA. Spaces are limited so register your spot below.
The workshop will to show you how to safely use the trap. You will also learn some tips and tricks on where to place your trap from expert trappers. Your new Victor Rat Trap comes with a Tunnel, jar of Fixx 'n' Fogg chocolate butter and a workshop by expert trappers.
That's $60 retail worth of kit for just $30. Thanks to our local volunteers and sponsors we are able to offer you this great price.
Rat Trapping Workshop
When: Thu 4 August 2021 – 7:00 to 7:45 PM
Where: Waitakere R.S.A, 39 Township Road, Waitākere, Auckland 0614
If you can't make the workshop, will also be allowing pick ups from 6pm on the night.
Sorry the course is fully booked. Please click below to join our newsletter to find out about the next workshop.
Paying for your Workshop and Pest Trap
Once you have signed up, please transfer the money to our group bank account. This ensures your place is reserved for you.
*** Only people that have prepaid are guaranteed a spot and trapping kit on the day ***
Why are Rats a Problem for our Native Birds?
Rats not only eat bird chicks and eggs, if they get into your house they can chew electrical wire and can cause fires. Learn more here The Rat Apocalypse in New Zealand.
FUN FACT: One Breeding pair of Rats can produce 15,000 Rats per year. Watch a video from National Geographic HERE
Why the Tunnels??? Putting the rat traps in tunnels makes them safer for our children and pets. Plus rodents love investigating tunnels.
How to get involved
The traps are subsidised, but you need to commit to checking the Humane trap (At least weekly), keep it baited and tell us when you catch something via trap.nz (preferred). The Rats love Peanut Butter in their traps.
Next steps
Our group uses a FREE website called trap.nz to record our catches. Adding your catches shows sponsors how well we are doing and shows locations that need more help.
Please Register with them HERE.
Traps are limited, so please fill out the form as soon as you can to secure your subsidised trap tunnel and trap.
Limited to one trap per household in the Swanson or Waitakere Township area.
The location of our project is the Swanson and Waitakere Township area, please check the map of our project HERE.
Workshop Details
The workshop has been scheduled.
Bring along $30 (You can get cash out at the bar) and paper and a pen to take notes.
Have other questions – Check out the FAQ
We have created a Frequently Asked Questions page for anything not covered here, please check it out HERE
Want to Make your own trap tunnels – The plans for the tunnels are located HERE. *Thanks OPBG for these great plans.
Here a video on how to set these traps from Ranger Darren from Zealandia Ecosanctuary
We look forward to hearing from you soon. Get involved in "Wak a Rat".