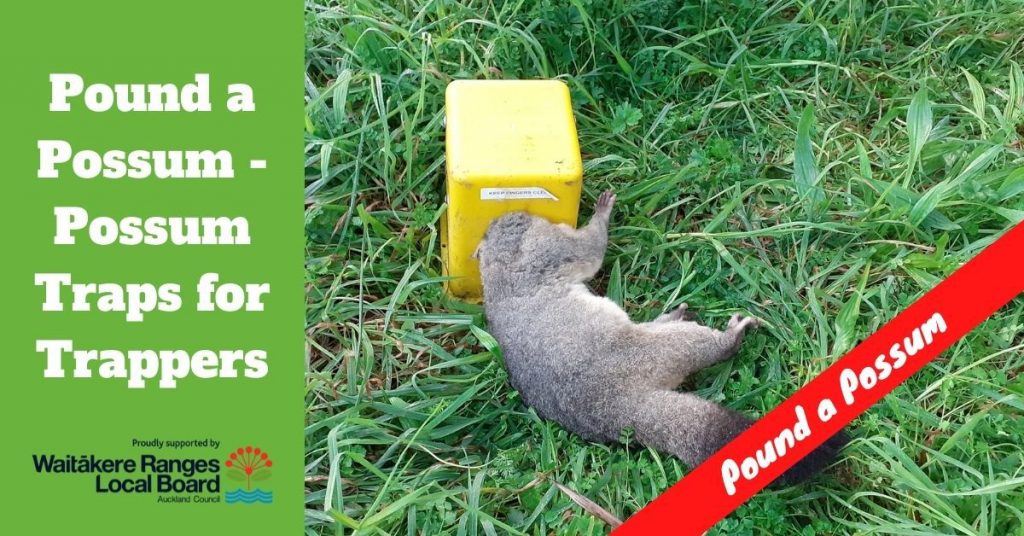 Pound a Possum – Possum Traps for Trappers
From time to time we get funding from different organisations in New Zealand. This will allow us to buy the materiel's to build some trap tunnels. Making them ourselves we allow us to get more traps out in the Waitakere Area.
Funding
Thanks so much to Waitakere Ranges Local board for funding this project, check them out HERE.
Current Project Status
Why are Possums a Problem?
Possums are opportunistic omnivores so not only do they compete for food with Birds they also eat baby chicks and eggs.
Learn more HERE
FUN FACT: Possums can carry bovine tuberculosis (TB). They spread the disease to New Zealand's cattle and deer herds, which threatens the meat export industries. Possums can also damage horticultural and garden crops.
We have a limited amount of Timms Traps. Timms traps are safe for other animals as long as you follow the bait guidelines and don't use any meat products in your trap.
If you are concerned then please unset the traps in the morning and reset at dusk.
How to get involved
The traps are available for a gold coin donation. You need to commit to checking the Humane trap (At least weekly), keep it baited and tell us when you catch something via trap.nz (preferred) or via this FORM. We bait our traps with a Quarter of an apple.
If you don't like handling Dead Pests then please don't sign up for this project
Next steps
Our group uses a FREE website called trap.nz to record our catches. Your catches can then be added to the New Zealand total, so we can see how we are tracking towards a predator free New Zealand.
We also give prizes out monthly to the Top Trapper of the month.
If you want to help our native birds get a trap please fill out the form below.
Will will then be in touch when the traps are ready. These can be picked up at a central Collection Point.
Please sign up below to join our newsletter and express an interest in a Trap. Traps will be given to active trappers in the area first. So please register on trap.nz and get started today.
Traps will be distributed when all allocated, probably in the Feb 2022.
Traps are not unlimited, so please fill out the form as soon as you can to secure your Timms trap.
Once we take delivery a Collection Point will be arranged, and traps can be obtained by giving a gold coin donation. This donation will goes towards purchasing more traps and expenses.
You must live in the Waitakere Township area to be part of our group, please check the map of our project HERE before submitting the form.
Next Steps – Add some Traps
Have a read of this article about how to add traps to your trap.nz account.
You can add as many as you like, please add any existing traps and once you get your Timms trap please add this as well.
You will find the article here: Adding a Trap or Installation to trap.nz
Have other questions – Check out the FAQ
We have created a Frequently Asked Questions page for anything not covered here, please check it out HERE
We look forward to hearing from you soon. Get involved in "Pound a Possum".
Current Project Status Detail
Seeking Funding
Get Funding
Purchasing and Picking up Traps
Arrange Trap Pickup Day
Project Completed
More Traps
If the project is completed or you want more Traps, Possum traps can be purchased at cost from Auckland Council – call 09 301 0101 to find out more.
How to set a Timms Trap
Here is a video from the Northland Regional Council on how to set your Timms trap.